Versus Arthritis
Contact details for Versus Arthritis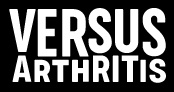 | | |
| --- | --- |
| Name: | Versus Arthritis |
| Address: | Copeman House |
|   | St Marys Court |
|   | St Marys Gate |
|   | Chesterfield |
|   | Derbyshire S41 7TD |
|   | United Kingdom |
| Telephone: | 0300 790 0400 |
| Website: | www.versusarthritis.org |
About Versus Arthritis
Arthritis Care and Arthritis Research UK have joined forces so that they can achieve more for people with arthritis.
Now they're Versus Arthritis which includes healthcare professionals, researchers, carers, and supporters.
Arthritis Care is a community providing support for people with arthritis across the UK. They support worldwide class research and breakthrough treatments.
Organizations: