Ataxia UK
Contact details for Ataxia UK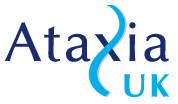 | | |
| --- | --- |
| Name: | Ataxia UK |
| Address: | 9 Winchester House |
|   | Kennington Park |
|   | Cranmer Road |
|   | London SW9 6EJ |
|   | United Kingdom |
| Telephone: | 0845 644 0606 |
|   | 020 7582 1444 |
| Fax: | 020 7582 9444 |
| Website: | www.ataxia.org.uk |
About Ataxia UK
Ataxia means "absence of order".
Individuals with ataxia have problems with their co-ordination. Ataxia is the main symptom of a group of neurological disorders known as the cerebellar ataxias.
Ataxia can be a symptom of other conditions including cerebral palsy and multiple sclerosis.
Ataxia UK aims to:
Fund research - into finding safe and effective treatments with the ultimate goal of finding a cure for the ataxias
Support - individuals affected by ataxia, including those with the conditions their friends families and carers.
Help people - live with ataxia through provision of services not found elsewhere; this includes a advocacy service.
Organizations: