ALS Society of Canada
Contact details for ALS Society of Canada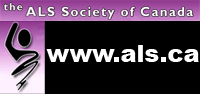 | | |
| --- | --- |
| Name: | ALS Society of Canada |
|   | (ALSSOC) |
| Address: | 265 Yorkland Boulevard |
|   | Suite 300 |
|   | Toronto |
|   | Ontario M2J 1S5 |
|   | Canada |
| Telephone: | 1-800-267-4ALS Toll Free |
| Fax: | 416-497-1256 |
| Website: | www.als.ca |
About ALS Society of Canada - ALSSOC
ALS (aka Amymotrophic Lateral Scleroris) is a rapidly progressive fatal neuromuscular disease. It can strike anyone. 80% die of ALS within two to five years of diagnosis. Some cases are hereditary. There are approximately 2500-3000 people with ALS in Canada. ALS in an individual can affect the whole family who often require support with their care giving (emotional, physical and financial).
Founded in 1977, the ALS Society of Canada is the only voluntary Canadian health organization dedicated solely to the fight against ALS and support of those with ALS, their families and caregivers.
A not for profit organization, the ALS Society of Canada raise funds for research into ALS and to support provincial ALS Societies which provide quality care for those affected by ALS.
The ALS Mission is to:
Support research towards a cure for ALS.

Support provincial ALS societies in their provision of quality care for persons living with ALS.

Build public awareness of ALS and its impact.
Organizations: