World No Tobacco Day 2023
Wed 31st May 2023
Worldwide
World No Tobacco Day is an initiative run by the World Health Organization (WHO). The aim of this event is to inform the public about the dangers of using tobacco and make them aware of the business practices of tobacco companies.
World No Tobacco Day also aims to educate people about the work WHO undertakes in fighting the global tobacco epidemic.
A large part of this work is educating the public about the manipulative tactics tobacco companies use to 'dupe' people into smoking their products.
Tobacco companies spend billions of dollars on advertising each year, portraying people who smoke as being cool, glamorous, macho and having other valued after traits.
In truth, cigarettes are highly engineered products designed to cause addiction and which often kill.
Cigarettes are highly addictive due to the presence of nicotine in the tobacco. However, over the years executives from the major tobacco companies have denied this.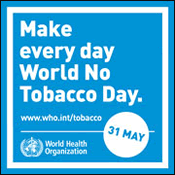 Whilst there are more restrictions on how tobacco companies can advertise their products in developed countries such as the United States, in other parts of the world people are still subjected to the more aggressive & manipulative advertising tactics.
Whilst there are fewer restrictions in these countries, international sales will keep these tobacco companies going.
For information,visit the World No Tobacco Day website.