Arthritis Awareness Month 2023
May
United States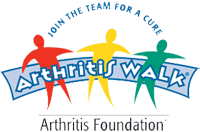 Spearheaded by the Arthritis Foundation, Arthritis Awareness Month aims to make people more aware of arthritis and the issues involved. Arthritis Awareness Month is a time to motivate Americans to get up and moving, whilst raising funds for arthritis research, support and advocacy.
Arthritis Walk events take place in hundreds of communities throughout the United States. These events are a major awareness and fund raising activity for the Arthritis Foundation.
Arthritis Walk events typically comprise of teams of at least 10 walkers. Teams can be friends, families, co-workers, vendors who walk to raise money for the event.
A non-competitive event, the distance for the Arthritis Walk is about 5km. A shorter course of 1 mile is offered for people who are less able.
People who participate in Arthritis Walk are helping to raise funds to fight Arthritis and chronic joint symptoms which affect 46million people and nearly 300,000 children in the United States.
Find an Arthritis Walk In Your Area.